Curious about how to become a freelance writer with no experience?
Becoming a freelance writer with no experience is not impossible but it does require a plan. Specifically, you'll need to know where to find freelance writing jobs for beginners, how to get hired for those jobs with limited experience and how to improve your writing skills so you can seek out better-paying opportunities.
Remember that every experienced freelance writer–even those making six figures from their writing–started out as a beginner. And if you're interested in how to become a freelance writer with no experience, these tips can help.
Related post: What is Freelance Writing and What Do Freelance Writers Do?
How to Become a Freelance Writer With No Experience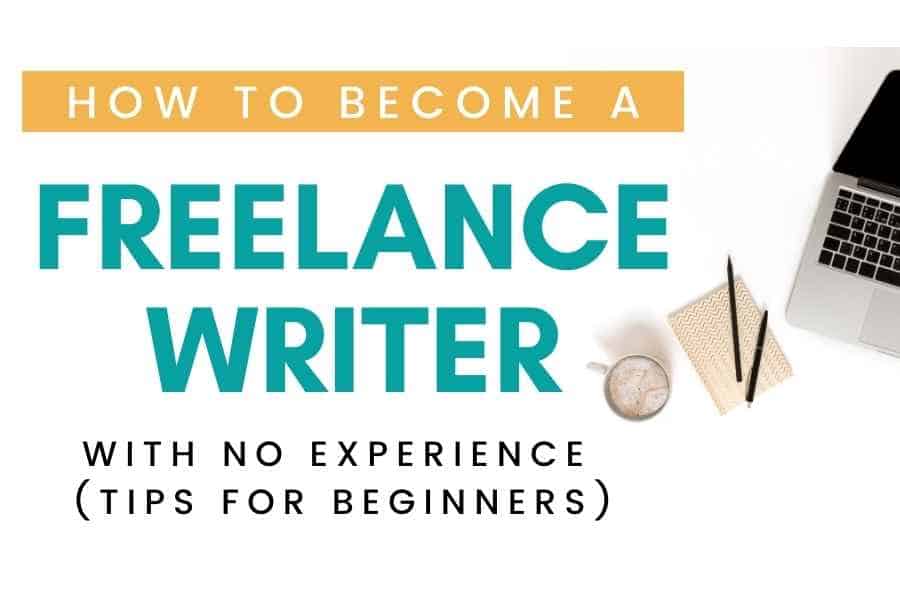 The route you take to becoming a freelance writer might be different from someone else's. And the tips I'm about to share won't guarantee that you'll go from making $0 to $10,000 a month or more overnight.
But these tried and true tips helped me to find success as a freelance writer when I had no experience. And I believe they can help you if you're serious about becoming a freelance writer, even when you're starting from scratch.
1. Take a freelance writing course
If you're trying to learn how to become a freelance writer with no experience, your first question might be: do I need to take a course?
Here's the honest answer.
Taking a freelance writing course isn't a requirement for making money as a writer.
When I first started freelance writing, I hadn't taken any courses at all. I learned about writing as I went, through trial and error. That's still the method I use today, nearly a decade since I started writing professionally.
But can taking a freelance writing course help you to get started? Absolutely.
A freelance writing course that's taught by someone who's already mastered how to make money writing can provide you with some invaluable knowledge. It can also save you from making some of the most common freelancing rookie mistakes.
If you don't have money to invest in a course right now, you can sign up for my free 6-day email course instead. It covers the most important things to know about freelance writing as a beginner.
2. Choose a profitable freelance writing niche
A freelance writing niche is a specialized area or topic that you write about. Some freelance writers are generalists, writing about a little of everything. But others choose to target a specific niche.
Do you need a niche as a freelance writer?
If you want to make more money, then yes. Writers who niche down and become experts on their topic or subject can easily make more money because they have skills and experience that clients are willing to pay for.
So what are some profitable freelance writing niches? Some of the most popular options include:
Personal finance
Health and fitness
Tech
Investing
Business
Some niches will make more than others and the best way to choose a profitable niche is to consider what you're interested in and what you might already know.
That doesn't mean you shouldn't choose a high-value niche that you don't know anything about. But you will have to put in the time and effort to learn about that niche so you can write about it.
Related post: 20 Freelance Writing Niches That Pay The Most Money
3. Create some high-quality writing samples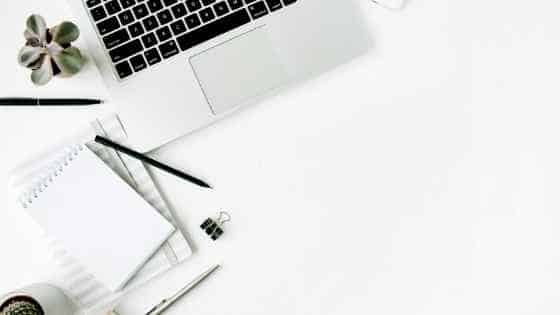 Freelance writing samples are examples of your writing that prospective clients will use to gauge your writing skills and abilities. A good writing sample can get you hired, even when you have no previous professional writing experience.
So how do you create freelance writing samples without getting hired for a writing job first?
It's a chicken and the egg scenario but there is a solution: create some writing samples yourself.
Here are some practical ways to create freelance writing samples:
Publish articles through a free Medium account
Publish articles on Thrive Global
Create writing samples using Google docs and download them as a PDF
Start a blog to showcase your writing
Guest post on other peoples' blogs
Publish posts on LinkedIn
With the exception of starting a blog, all of these options are free ways to create writing samples.
Is it worth starting a blog when you're trying to learn how to become a freelance writer with no experience?
It can be, if you're able to create some quality writing samples with your blog posts.
A blog can also double as an online portfolio so that you don't need to set up a separate freelance writer website. And it may be possible to monetize your blog with ads, sponsored posts or affiliate marketing to generate some income from your writing.
Related post: How to Start Blogging as a Freelance Writer (and Why You Should)
4. Create a freelance writing portfolio or website
Once you have some freelance writing samples prepared, you'll need a place to keep them online.
There are two options for organizing your freelance writing clips:
A freelance writer website could be worth creating if you'd like to have an online presence but don't want to worry about updating a blog regularly. You can set up a static website that includes:
A bio page describing who you are and your writing experience
A breakdown of the services you offer as a freelance writer
Links to your writing samples and press mentions, if you have them
Links to your social media profiles
Details on how prospective clients can contact you
Setting up a writer website is something you can do in a weekend and the technical aspects are not that different from setting up a blog. But if you want a simpler option, you could set up an online portfolio instead.
You can build a very basic writer portfolio and link up to 10 articles through JournoPortfolio for free. There are also paid plans if you'd like to make your portfolio a little more detailed.
Related post: 4 Tips for Creating a Freelance Writer Portfolio (That Gets Clients)
5. Research freelance writing jobs for beginners
Up to this point, you've learned the technical aspects of how to become a freelance writer with no experience. Now comes the next challenge: finding work.
This step can be a little scary but once you get into the habit of looking for freelance writing work, you can get more comfortable with the process.
So where do you find freelance writing jobs for beginners?
Job boards are a great place to start when you're a freelance writer with no or limited experience. Freelance writing job boards and remote job boards can be a gold mine for turning up gigs you can apply for as a beginner.
Here are some of my favorite spots to pick up freelance writing jobs:
Some of these sites are free to use, othersrequire a paid subscription to access freelance writing job listings. I suggest checking out all of them to see which ones might work best for you.
Here are a few tips for using freelance or remote job boards wisely to find work as a new freelance writer with no experience:
Read the job description, then read it again.
Check the rate to see how much it pays.
Follow the directions for applying.
Watch out for red flags, like ads that ask for money upfront.
And one more tip: don't skip out on applying for a job if you're not 100% qualified. If I had let that stop me from applying for jobs when I was learning how to start freelance writing, I never would have gotten anywhere.
What about freelance writing bidding sites or content mills?
I see a lot of freelancers asking about sites like Upwork and whether they're worth it.
And honestly, you'll get different opinions.
One well-known writer I'm familiar with swears by Upwork. She coaches other beginning writers on how to start freelance writing through the platform.
The upside is that you can make money with Upwork pretty quickly. If you're looking for some fast cash right out of the gate, you can find it here.
But Upwork can limit you if it's the only place you're looking for work. And in my experience, the majority of clients wanted to pay pennies for the end product.
Related post: Freelance Writing Jobs for Beginners: 13 Proven Ways to Get Your First Paid Writing Gig
6. Learn how to send a freelance writing pitch
Once you've gotten a feel for how to find freelance writing gigs on job boards and you've considered the pros and cons of sites like Upwork, you can start branching out. That means learning how to pitch.
Pitching means reaching out to companies or brands you want to write for and offering your services in a convincing way so that they're open to hiring you.
This is one of the most intimidating things to learn when you're figuring out how to become a freelance writer with no experience. But when pitching is done correctly, it can become your bread and butter.
The hard part is figuring out who you want to pitch to.
Some pro freelancers will tell you to pitch to anyone and everyone in the beginning. And that's fine because here's a secret about freelancing: it's all a numbers game.
The more you pitch, the better your odds of landing paid writing jobs.
If you just want to start making some cash from your writing then by all means, pitch away. But once you start getting established, you can fine-tune your strategy and start narrowing down the kind of clients or jobs you want to pitch.
Here are a few tips for writing a pitch:
Send your pitch to the right person and use their name in the greeting
Keep it friendly and professional
Make the pitch about the client and how you can help them, instead of telling your life story
Keep your pitch short and sweet
Close it by telling them what to do next (i.e. email you to schedule a chat)
Be confident!
That last one's important because you really have to believe you can make your first $100, $1,000 or $100,000 as a writer. If you're not confident it'll show up in your pitches and you'll have a hard time landing any gigs.
Related post: How to Write a Pitch That Freelance Writing Clients Can't Say No To
7. Start building your network
Building your network as a new freelance writer can be critical to your long-term success.
The people in your network–which can include other freelance writers, editors and bloggers–can help you to get hired if they're willing to refer for writing jobs. But to get those referrals you'll need to have good professional relationships with those people first.
If you're not sure where to start with building your network, I suggest focusing on LinkedIn first.
LinkedIn can help you build your network fast and a properly optimized profile could even help you to get your first freelancing writing jobs. If you're not using the platform yet, these tips can help you create a LinkedIn profile that gets you noticed.
8. Establish your freelance writing rates
One of the biggest decisions you have to make when starting out as a freelance writer is how much to charge for your services.
So how much do you ask for when setting rates as a new freelance writer?
My personal rule of thumb is to charge no less than $0.10 per word in the beginning, although honestly, this still seems low to me. If you can charge $0.20 to $0.25 per word as a beginning freelance writer, you'll already be ahead of the game with earnings.
The rates you charge as a new freelance writer can depend on:
How much writing experience you have
What niche you're writing in
The size of the project
The biggest mistake to avoid when setting rates is to agree to a lower rate just to get a gig. This can create a pattern of doing low-paying work that can be hard to break out of once you're more established.
9. Consider doing unpaid writing gigs to build credibility
Now, I just said that you shouldn't accept lowball gigs in the beginning. But there are times when it could benefit you to write pro bono.
What does writing for free have to do with how to become a freelance writer with no experience?
Simply that it can be worth it if it allows you to establish credibility as a writer that could help you get hired for a paid gig later.
For example, you might write a guest post for a well-known blog in your niche that gets 1 million page views per month. That means thousands of eyes are checking out your writing and if you also have a blog, you might also get a backlink for your trouble.
Now, say you come across what sounds like the perfect writing job on a job board. You can use that guest post you wrote for free as a writing sample to land the job.
I would not suggest only writing for free in the beginning. And I recommend being selective about who you offer free writing services to and what you'll get in return.
But otherwise, doing some unpaid work in the beginning could be a profitable strategy down the line.
10. Prioritize learning
Here's an important thing to know about how to become a freelance writer with no experience: you have to be willing to learn.
Unless you're a naturally gifted writer it can take time to learn basic things like how to format a blog post or how to write content for SEO. You may need to learn how to write in different formats or styles and how to handle the business side of freelancing.
So if you want to become a successful freelance writer, learning should be a priority.
A good way to learn is by studying established freelance writers (either in your niche or not) to see what they're doing that's working. (And as a bonus, this can also help you to avoid common beginning writer mistakes. 😊)
You can also invest in learning through writing tools or resources and freelance writing books.
Again, you don't want to spend all your time learning. But it's important to work on improving your skills so you can grow your writing income.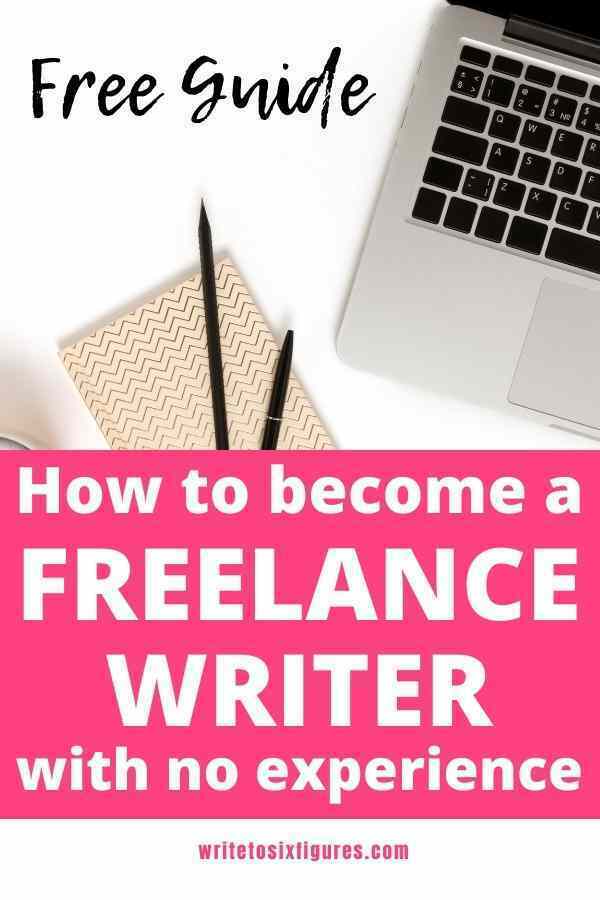 What Else to Know About Becoming a Freelance Writer With No Experience
For most beginning freelance writers, choosing a niche and finding your first paid gigs are the biggest hurdles to overcome. But here are a few more things to know as you work out how to become a freelance writer with no experience:
Make sure you have a PayPal account so you can get paid once you start earning money.
Get a solid freelance writer contract in place to protect you and your clients.
Continue building connections with other freelance writers and editors LinkedIn and Facebook groups. (This is a great way to make writer friends and land writing jobs!)
Remember that if you make more than $600 a year freelancing you have to report that income on your taxes.
Work on becoming an expert in your niche–that's key to making more money as a freelancer.
Set a goal for the money you're making, like adding it to a high-yield savings account for emergencies.
Related post: 10 Secrets Every New Freelance Writer Should Know
Final thoughts on how to become a freelance writer with no experience
Freelance writing can be extremely lucrative if you've chosen a profitable niche and you're able to build up a solid client base. When you're starting out as a freelance writer with no experience, the best way to avoid getting overwhelmed is to focus on doing one thing at a time.
Don't forget to sign up for my free 6-day email course if you're ready to kickstart your freelance writing business!
For more tips on how to become a freelance writer with no experience, read these posts next:
How to Become a Freelance Writer With No Experience